green'd. Plant Based Daily Health System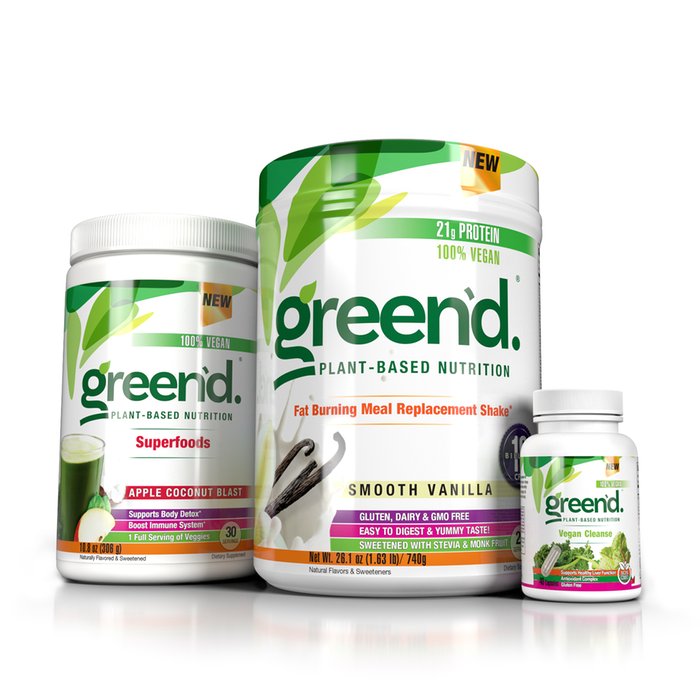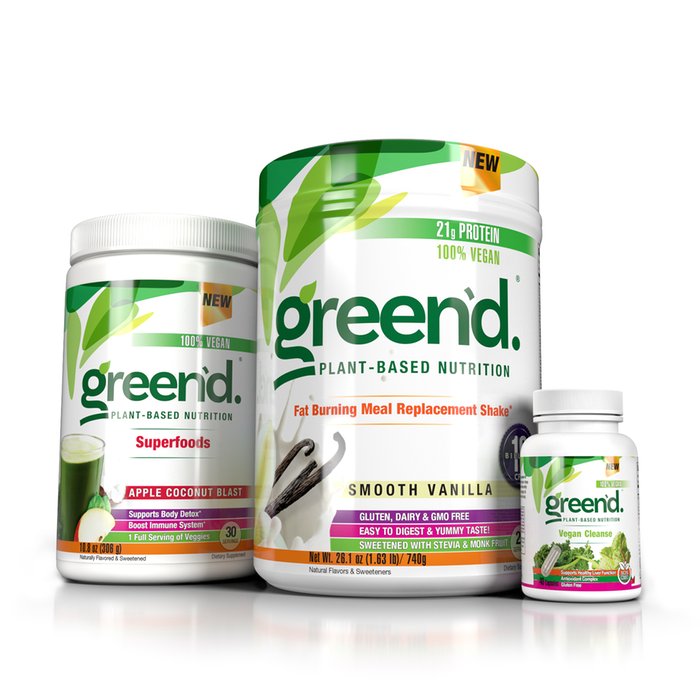 NEW!
SALE
LIMITED
Customer Favorite
Top Seller
WARNING: *Results may vary per user. Check with your physician before beginning a supplement regimen.
*These statements have not been evaluated by the Food and Drug Administration. This product is not intended to diagnose, treat, cure or prevent any disease.
Suggested Use:
Follow all instructions as listed on individual products. To be used as part of a healthy lifestyle of regular physical exercise & proper diet.
WARNING: Do not use if pregnant, nursing, or under the age of 18. Use only as directed. Do not exceed recommended amount. Consult with a doctor before taking this or any other dietary supplement, especially if you have or suspect you may have a medical condition, or are taking any medications, over-the-counter products, or other dietary supplements. Immediately discontinue use and consult your doctor if any adverse reactions occur. Do not use if tamper-resistant seal is broken.
NOTICE: green'd. Vegan Cleanse contains Senna Leaf Extract and Cascara Sagrada Bark. Read and follow directions carefully. Do not use if you have or develop diarrhea, loose stools, or abdominal pain because Senna Leaf Extract and Cascara Sagrada Bark may worsen these conditions and be harmful to your health. Consult your physician if you have frequent diarrhea or if you are pregnant, nursing, taking medication, or have a medical condition.
Keep out of reach of children. Store in a dry, cool place, and avoid excessive heat.
The Daily Health System is for those seeking a natural path to continually improve overall health while supporting a steady metabolism.*
---
Pea Protein Isolate:

A 100% vegan protein that contains all essential amino acids.

Lactobacillus Acidophilus:

Bacteria naturally found in the stomach and intestines. Helps improve digestive health by restoring equilibrium.*

Dandelion Root:

Herbal ingredient added to assist in detoxifying the body.*

Turmeric:

Contains bioactive compounds that work as a powerful antioxidant in the body.*

Barley Grass

: Naturally high in minerals, amino acids, and antioxidants. Helps support immune system while promoting healthy natural body detoxification.*

Spirulina

: A micro-algae with an extremely high nutrient value. The natural ingredient also has fantastic antioxidant properties.*
Get the best supplements for you
Get the best supplements for you
Visit your local Complete Nutrition to get a free personal consultation.